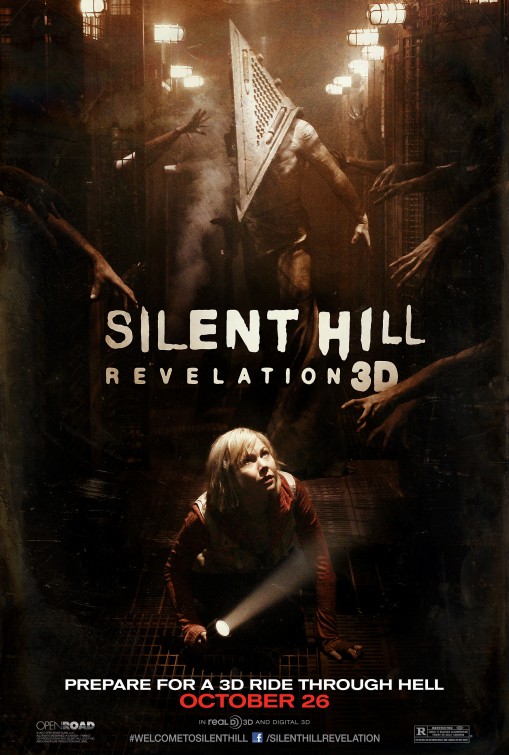 Silent Hill Revelation 3D
4/5
Review:
As a fan of the first Silent Hill movie, I was completely in favour of a return to the big screen for one of the better horror survival franchises. I will say, I was somewhat dismayed by the fact it was going to be in 3D (although admittedly not surprised). What surprised me more though is how effectively it was used and how good the overall picture was.
This story caries on from the first one where Christopher De Silva (now Harry) is trying to live life after escaping the first time from Silent Hill with his daughter. Luckily, you won't need to know much more past that to at least enjoy what this movie is trying to do. The best way I can describe this was like watching a haunted house when the action was on, and like a slow burn when it wasn't. What little plot there is gets explained fairly well and at no point did I find myself confused.
In order to enjoy something like this however, one would have to definitely suspend some disbelief and just let this movie take you on the ride it attempts to be. The 3D is used for immersion, and from the ash appearing to fall right in front of you, to creatures popping out extra appendages right at you, it seems to be all done in the name of fun and keeping you engaged.
This movie is not for horror purists in the sense that there isn't much that could be considered scary here and it shouldn't be giving anyone nightmares any time soon. The visuals are well constructed though and represent the video game universe well; one scene in particular with the infamous nurses provides a good nod to the video games.
I'd recommend this for fans of any of the horror remakes that have come out in 3D, possibly for fans of the original and those who just want to have some fun and not worry about leaving the theatre scared and checking your closets at night etc.
One word of caution though: If you are going to see this, make sure it's in 3D!
-Marcell